Order Process
When registered as a member, enjoy a return of points equal to 1% of your purchase price.
Members also will not have to input customer information again after registration, making it easier and more convenient to shop.
Remember that it is not necessary to be a registered member to shop or make purchases with KS Japan.

STEP 1 Product confirmation (shopping cart)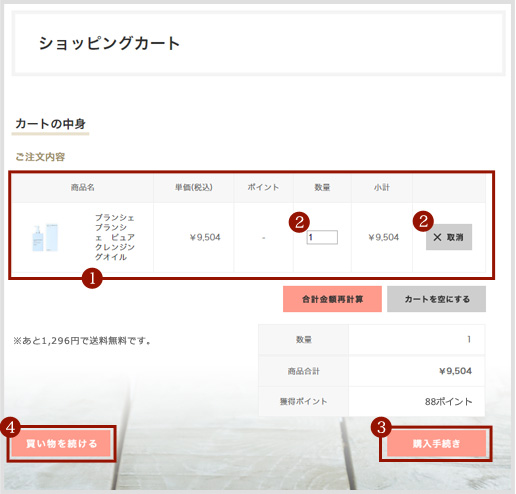 Please confirm that your order is correct.
If you want to change the quantity, please push the "Total Amount Recalculation" button after changing the quantity and the purchase amount will be recalculated. To cancel the item, please press the "Cancel" button
To proceed to the "Order Procedure" page, please click the "Order Procedure" button. Customers who have already registered as members can omit input of delivery information.
Customers can easily continue shopping by clicking the "Continue Shopping" button on the left and you will be returned to the product page.
STEP 2 Enter customer information (login or new member registration)

For customers who are registered as members, please login.

For first time users, please select "purchase after member registration" or "purchase without member registration".
Customers who are ordering for the first time, please input delivery information by clicking the "delivery address" button.

※Customers who have entered their customer information at the time of member registration will not have to input their information again as it will be automatically displayed.
※ We sometimes get inquiries from time to time that email from our shop was not received. Please double check and make sure your email address is correct when registering.
STEP 3 Set the delivery address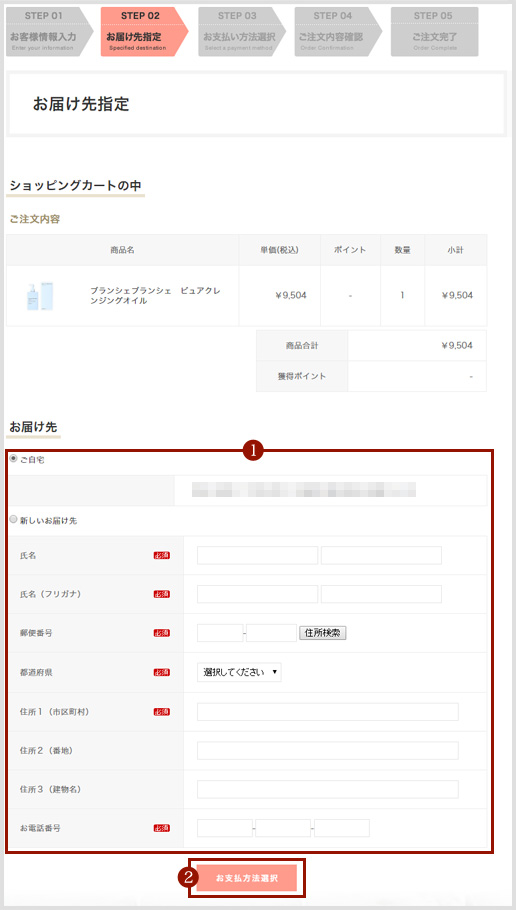 Please input a "new delivery address" when the delivery destination is different from your registered address, such as when you are sending a gift.

※ Registered members can register up to 50 destination addresses.
Please proceed by clicking the "payment method" button.
STEP 4 Select payment method

You can choose the desired delivery date.
If you are using points for your purchase, please enter the number of points you would like to use here.

※Please be aware that points have expiration dates. Please be sure to confirm the expiration date of your points.
Please select the payment method.
STEP 5 Confirm your order

Please confirm the information entered is correct.
If you would like to make changes, you can return to each section by clicking the "change" button.
If all information is correct and there are no changes to be made, please proceed by clicking the "confirm order" button at the bottom of the page.
※ After ordering, we will automatically send you order confirmation e-mail containing the details of your order within 1 hour.
After ordering you notice a change in your order contents, or in case of cancellation of your order, please contact our shop directly.
If you do not receive a confirmation email after ordering
Order Confirmation Mail (Automatic Reply)After receiving your order, we will send you an email titled "Order Received" within 48 hours.
If by any chance your order receipt mail does not arrive, there may be a possibility of a mistake in the registered email address provided or within our system.
We apologize for the inconvenience. Please contact us directly via email or phone.
※In addition, since e-mail from our shop may be filtered out to your "junk mail" folder, please check and confirm.
price in points

・Members will earn points equal to 1% of your purchase price.
・Use points the next time you shop. You can use 1 point = 1 JPY.
・Points are valid for a period of one year from the date of your last purchase.
However, for points that are awarded for and during special promotions will expire as specified at the time of receipt.
・Points may only be used in lieu of payment for products. (Points cannot be used for delivery charges or handling fees)
・Points can only be used at WEB SHOP stores.
Please be aware that points cannot be used walk in stores.
・You can confirm your points and purchase history from "My Page"